Just a quick update: I have recorded some really short timelapses of Ixo's creation process, which will gradually appear on youtube. We start with Parts one to three today, with more videos to follow soon.
These are no tutorial videos, nor comprehensive recordings of all individual steps. However, I hope they manage to provide a good glance not only at the process, but also at how Ixo Reborn looks like and what challenges our little spider might meet.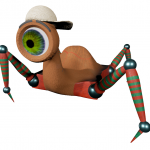 Part I
Setting up a mesh that is based on my main character, Ixo, but which needs to be low-poly, as it is meant to appear in larger numbers:
Part II
Here is me setting up the low poly mesh that I previously created:
Part III
Obviously, I couldn't leave the cartoony eye texture like that:
Is that you, HAL?
Stay tuned for more….
take care